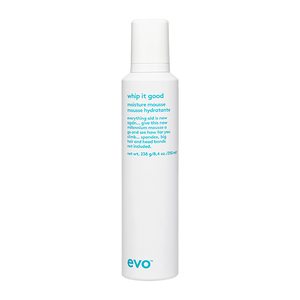 Concept.
a rich moisturising mousse with a light hold that enhances and controls dry hair; helping to reduce frizz and add shine.

Benefits.
improves styling, defines and holds style. seals the cuticle to prevent moisture loss and provides humidity control.

How to use
shake well. apply evenly to damp hair and style as desired.
250ml / 8.4oz
Recommended for

all hair types; especially dry, colour-treated hair.

vegan / cruelty free / made without sulfates, parabens or gluten.

Shipping notes.

if your order contains this stage 5 sprayer ( aka an aerosol), its considered a dangerous good. so we can't send it via the air... or even pigeon mail i am afraid. 

so please, (pretty please) be patient, as our super road trucks are on their way.