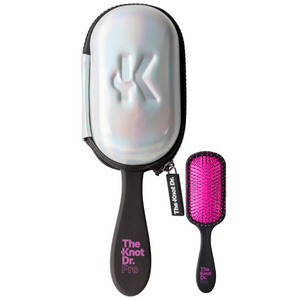 Capture the holographic 
Optimum 2121 FLEXALITE™ bristles for painless detangling, Protective case to prevent bristles damage
LIMITED EDITION WHILE STOCK LAST!!!!
FEATURES
Optimum 212 FLEXALITE™ bristles to glide through knots and tangles for painless detangling.
Oversized ball tips to gently massage the scalp.
Ergonomic design with rubberised body for comfort and control while brushing.
Protective case keeps the brush clean and the bristles in top form while traveling.
Perfect for all hair types and lenght, dry or wet including wigs and hair extensions
Designed for professional and home use.