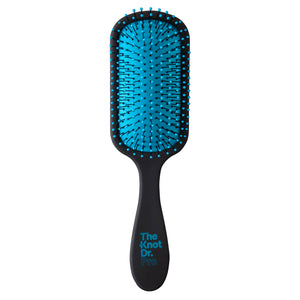 The Pro: The detangling specialist!
Give yourself the prescription for better hair and finally cure knots and tangles with ease thanks to The Knot Dr FLEXALITE™ bristles.
The Pro boasts 212 FLEXALITE™ bristles, just the right number, spaced just the right way for the ultimate painless detangling experience. 
Perform your own knot surgery today!
FEATURES
Optimum 212 FLEXALITE™ bristles to glide through knots and tangles for painless detangling.
Oversized ball tips to gently massage the scalp.
Ergonomic design with rubberised body for comfort and control while brushing.
Perfect for all hair types and length, dry or wet including wigs and hair extensions.
Designed for professional and home us