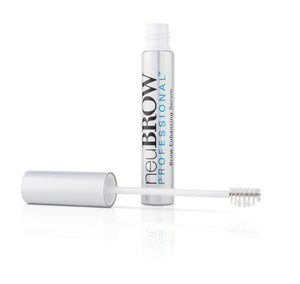 Description
Neu Cosmetics provides you with the best brow enhancing serum which helps to improve the weak appearance and uneven brows in to healthier one. Check out Neu Cosmetics online store today.
Keratin moisturizes and supports hair fibers that are thin, undernourished or weakened. Sweet almond protein creates a protective layer, bringing softness and brilliance to the brow line.

Bioengineered peptides, a proprietary combination of amino acids, help the look of flawless brows, enhancing their overall appearance. Biotin, an essential nutrient with fortifying benefits, helps protect brows from further damage.

Apple extract encourages a look of vitality. The result is shapely, beautifuI, more defined brows- and a healthier appearance.

How To Apply

STEP 1: Unscrew the serum cap and take off the brush top.

STEP 2: Use the application brush and apply the serum along the brow line and other needed areas. Let it dry.

STEP 3: Use the eyebrow brush and brush your brows in the direction they grow. This stimulates the brow giving it a fuller and healthier look.
CONSISTENT USE:
Apply neuBROW every morning and night. Once desired results are achieved, continue using neuBROW every other day to maintain the healthy appearance of your brows