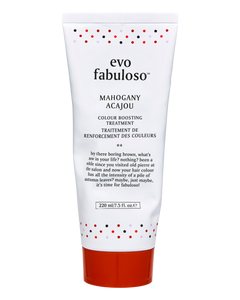 Concept.
a colour boosting treatment that provides an instant colour boost, combined with a nourishing treatment to refresh or tone colour, revive and add shine in just 3 minutes.

Benefits.
instantly refreshes/tones to intensify and extend the life of colour-treated hair. nourishing treatment softens and conditions hair. restores and maintains moisture balance to reduce frizz and give brilliant shine.

How to use.
wash and towel dry hair. wear gloves. spread desired amount, depending on hair length, with comb or fingers. wait 3 minutes, then rinse until water runs clear. use weekly.
220ml / 7.5fl.oz
Recommended for

dull, dry, colour-treated dark blonde to medium brown hair.

vegan / cruelty free / made without sulfates, parabens or gluten.