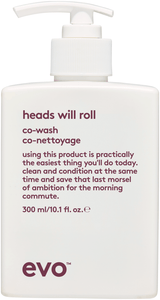 Concept : 
A low-foam cleansing conditioner that gently cleanses and conditions in one step to remove build-up, hydrate and improve curl manageability.
Benefits : 
Sulfate-free cleansers' gently cleanse scalp and curls to remove product build-up, dirt and excess oil
Deeply moisturises curls without weighing them down
Hydrates curls to support natural curl shape and pattern
Reduces frizz and prepare curls for easier styling
How To Use : 
Wet hair, massage a generous amount into scalp, work product from roots to ends with fingers or a wide-tooth comb, then rinse. for best results, repeat process. use in-between deep cleaning as required.
when to use : 
Heads will roll is for those in-between times… when your curls need a clean but you don't want to commit to the whole process.
recommended for : 
All curl types, including: wavy, curly, coily and tight textures.
vegan / gluten-free / gimmick-free / tested on humans