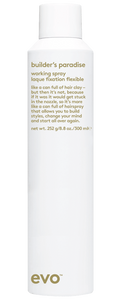 Concept.
a medium hold, working hairspray for building styles and layering.

Benefits.
improves styling, definition and hold. creates touchable texture and builds body. flexible hold that can be restyled with ease and reactivated with heat. easily brushes out without residue. easily washes out, without leaving residue.

How to use.
spray during styling for volume and style support. spray over finished style for strong hold and control.
252g / 8.8oz
Recommended for

all hair types.

vegan / cruelty free / made without sulfates, parabens or gluten.

Shipping notes.

if your order contains this stage 5 sprayer ( aka an aerosol), its considered a dangerous good. so we can't send it via the air... or even pigeon mail i am afraid. 

so please, (pretty please) be patient, as our super road trucks are on their way.